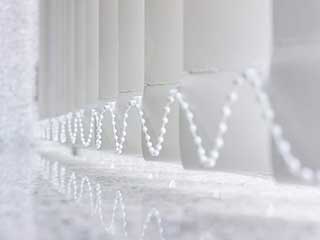 We recommend our custom vertical blinds for homes and offices of all types. These window coverings are a brilliant way to reduce glare through large windows and preserve the privacy of occupants. Our high-quality custom vertical blinds are available in a huge range of different designs. That means you're bound to find the perfect style, whether you're fitting out a boardroom or a bedroom. If you'd like a closer look, we also offer free consultations in and around Pasadena. Get in touch today to set up your no-obligation appointment.
Custom Vertical Blinds
Our top priority is to give you access to the best vertical blinds around. We use high-quality materials including wood, fabric, and vinyl to provide plenty of choices. You can choose to have wide or narrow vanes, as well as deciding on the ideal combination of colors and styles. We even offer many different fabrics such as blackout or sheer options. This lets you create vertical blinds that are truly unique. The affordability of our window coverings will surprise you, too. Why not contact our Pasadena team today for a free estimate?
Quality Vertical Blinds For Office Windows
We believe that vertical blinds provide the perfect window coverings for any business. This is because they're extremely quick and easy to adjust, but still, provide excellent protection from glaring sunlight. That means your employees won't have to disrupt their productivity just to adjust the blinds. Our range of design options also means you've got plenty of choices. We will create the perfect vertical blinds for your office, providing style, privacy, and comfort for your workplace.
The Perfect Vertical Blinds For Sliding Screen Doors
Something that many homeowners complain about is finding the right window coverings for sliding doors. It's not easy to make sure your home has the right amount of privacy and isn't exposed to dazzling sunlight all day. You won't have to struggle anymore, though, with our special range of vertical blinds for sliding screen doors. We offer custom window coverings that perfectly fit sliding doors of any size. Don't compromise comfort and privacy at your home. Schedule a free in-person consultation with our Pasadena representatives today.
Motorized Window Treatments
One of the popular options for those who choose to get custom vertical blinds from us is motorization. Many people opt for motorized blinds for their Pasadena homes and business, and it's no surprise, really. Automatic window coverings offer tremendous convenience and comfort, as well as utility and aesthetics. Motorized vertical blinds can make it a lot easier to control sunlight in any room at any given time. Find out more about the different features by scheduling a free consult. Faux wood, vinyl, aluminum and other materials available at very low costs.
Discover What Our Pasadena Vertical Blind Specialists Can Do
We're proud to offer our services in Pasadena and the surrounding areas. To find out more about our expert services, or to schedule your free consultation and estimate, simply get in touch today. Our team is in your area and will be happy to help.