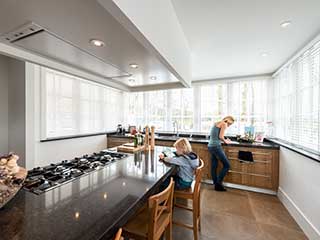 Our Pasadena Blinds & Shades team has been working in your area for years helping our customers find the perfect style of window treatments for their home or business. We'd be happy to do the same for you! There are many different types of window coverings to consider. But one of the simple classics is Venetian blinds. They're easy to use, are great for smaller sized windows to give a neat and uniform appearance. Venetian blinds come in several different materials to fit your needs. If you want to see if Venetian-style coverings might be right for you, check out more about them below:
Pasadena's Best Metal Venetian Blinds
If affordability is your biggest concern, our team can help! Whether you need functional and straightforward blinds for your business or know that your kids are going to put them through the wringer, metal Venetian blinds are a great choice. They're the least expensive option, so you won't need to worry about spending too much. Aluminum is another affordable choice, and are long-lasting. We also offer vinyl and PVC Venetian blinds, which are a breeze to clean! Whatever best suits your money and maintenance needs, we'll have something for you.
Motorized Venetian Blinds
Direct sunlight for hours at a time every day can do a number on your furniture, books, and other belongings. Sun bleaching will cause the colors to fade and permanently damage those items. So, what are you to do when you have high up and out of reach windows that can't have manual window treatments? Motorized Venetian blinds are your answer! Whether you decide you want to use a remote to control them yourself or have a sensor installed to automatically adjust them, you'll be able to keep your furniture safe from any harm. With motorized Venetian blinds you can affordably control how much sunlight gets in and how much privacy you have. You can also get Google Home or Alexa to connect with your motorized blinds for a voice control bonanza!
Better Rest with Blackout Venetian Blinds
Generally speaking, blackout blinds can suit pretty much every type of residential or commercial property. Our Pasadena team is here to assist you if you feel that certain rooms in your home are letting in too much outside light. Certain areas require complete darkness, such as the baby's nursery, or your bedroom. That way, both of you can get a good night's sleep! The best way to achieve this is with blackout Venetian blinds. Not only are the coverings themselves made specifically to block out all light, but being custom made by our technicians means that they will perfectly fit your windows to assure there are no gaps.
We Offer Beautiful Wood Venetian Blinds
When it comes to materials, timber offers a hard-to-beat option. Wood Venetian blinds are a gorgeous addition to any home, particularly in areas where you want to impress! Their refined air is sure to catch the eye of any visitors, as long as you don't mind the maintenance required to keep them looking their best. However, if that's too much for you, there's another option that's also more affordable! Faux wood Venetian blinds have the same lovely look but without the need to take care of them as often.
Free Quotes on Pasadena Blinds
Whether you live here or somewhere nearby, turning to us for a free estimate will expose you to a world of beautiful and affordable options. We have the most beautiful selection of Venetian blinds in the Pasadena area. We'll help you pick the right colors, materials, and features for your new window treatments and install them correctly so they work great from day one. Give us a call to book a consultation and learn more.