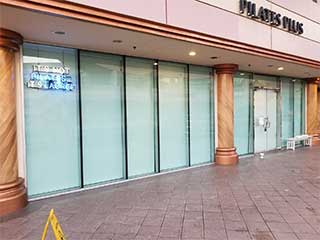 When you're looking for new sliding door blinds to add to your Pasadena property, you need to know you're getting the best. Don't settle for second best. Make sure that your new sliding door blinds come from Pasadena Blinds & Shades. Our team is dedicated to giving you the best customer service there is, with free consultations available throughout the nearby area. Whether you're looking for motorized rolling shutters or beautiful custom valances, we're ready to provide high quality at a low cost. Simply contact us today to find out more about our services.
Affordable Rolling Shutters
For many homeowners, wood is the most attractive material around. There's something timeless about real wood rolling shutters, which makes them a very popular product in Pasadena. However, we offer much more than just wood shutters. You can choose from a range of materials such as PVC or aluminum, or even faux wood. These provide you with all the options you need to find the perfect custom rolling shutters.
Cheap Pasadena Patio Door Blinds
Keep control over your patio doors by choosing our custom blinds. Our range of high-quality sliding door blinds gives you the ability to easily keep out unwanted dazzle, while also preventing onlookers from seeing into your home. We design all our blinds to be easy to use, so you won't have to spend more than a few seconds adjusting them. In addition to this, you'll be amazed at the sheer variety of different colors and designs you can choose from. Schedule your free consultation in Pasadena today to see more of what we can do.
French Door Blinds In Pasadena
Your home's French doors let in plenty of natural light, which is usually exactly what you want. Sometimes, though, you'll find yourself getting dazzling sun glaring through your windows. Don't put up with this discomfort. Choose our custom French door blinds as the perfect solution to this problem. Our extensive selection of designs and colors means you're not just picking blinds that do the job. You're investing in high-quality window coverings that make your home more decorated and more comfortable to live in.
Low Prices On Curtains For Screen Doors
Screen doors keep the bugs out, but they're not the best way to control natural light. You'll need our custom curtains, which are the perfect way to keep out glare and dazzle. Not only will these reduce discomfort and provide a high level of privacy, but we offer an impressive selection of different materials. Choose blackout curtains for maximum control, or invest in roman shades or custom valances instead.
Motorized Vertical Blinds
Our selection of motorized vertical blinds provides the perfect way to improve your home. You can combine a huge selection of different designs to create the perfect choice for your home. Our motorized sliding door blinds are the perfect way to introduce modern convenience into your home, and you'll find them to be more affordable than you think. Simply contact our Pasadena-based team today to find out more.
Free Quotes On All Sliding Door Blinds & Covers
Consult with one of our experts (for free) and see what sort of shading options you can choose for your Pasadena home, office, or other. Call today to book an in-person consult + free estimate.