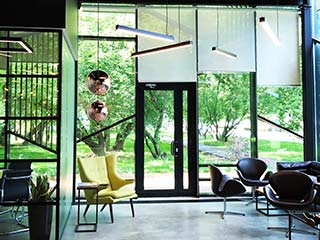 Smart window shades make saving money and boosting efficiency a straightforward process. Gaining total control over sunlight makes it easy to keep your interior temperatures at a comfortable level, cutting out brightness and keeping costs under control. Lutron's motorized shades with remote control systems are the best option for homeowners and businesses alike. Wall switches and dimmers, combined with remote controls and even WiFi connectivity, offer total control over your smart shades. You can even control your Lutron motorized shades with your smartphone! We provide custom-built smart shades with silent motors and a range of attractive designs to choose from.
As the nearby Pasadena Lutron shade specialists, we offer a huge selection of designs and styles, so you can find the ideal setup. A free estimate is a perfect way to begin and allows us to show you just how good Lutron shades could look in your property.
Pasadena Lutron Shades For All Window Types
Made-to-measure window coverings guarantee total protection from unwanted sunlight. There are no little cracks and gaps that let sunlight through, and you'll get proper coverage. With our range of custom Lutron shades, designed to fit closely with windows of all sizes, you can be sure that sunlight won't keep streaming in when you close the shades. Thanks to the simplicity of the Lutron remote control systems, it couldn't be easier to create a comfortable environment in your property.
Range Of Motorized Blinds Materials
When you optimize energy efficiency, you need to have the right type of material covering. Lutron motorized shades work perfectly with a range of fabrics, from sheer to blackout, so you get exactly the right effect in your interior spaces. Blackout material totally blocks sunlight, which means you won't have to worry about annoying sun rays and glare coming through the window. You'll also get much better privacy since you can't see through the material. On the other hand, sheer material gives off a much softer and diffuse light when sunlight hits it.
Lutron Shades Made-to-Size
These motorized shading solutions are great for creating well-lit interior spaces that feel comfortable without having to deal with unblocked, glaring sunshine. This all comes with the energy-efficient Lutron motorized shade quality and the huge range of remote control systems that you can install. If you want the finest Lutron motorized shade system for your Pasadena area business or residence, we're the team to talk to. Contact our local motorized window covering specialists today to set up your free, no-obligation consultation.