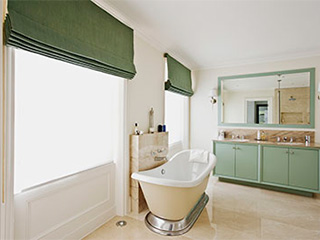 Who can feel at home in a property that's not private? When you're always wondering if the neighbors are looking in, it's hard to feel like you can relax. You don't have to put up with this. We provide custom window coverings that are perfect for any situation. If you need to add some privacy to your home, choose one of these options.
Venetian Blinds Combine Classic Design And Privacy
Homeowners all over the country choose Venetian blinds because they look great. They're right, but this isn't all they do. They're also extremely effective at keeping out prying eyes. You'll find it extremely easy to stop nosy neighbors looking into your property. It only takes a twist of the control rod to cut out light and keep your home out of view.
Plantation Shutters – Elegant And Effective
Our plantation shutters are extremely popular with homeowners who want a touch of class. These window treatments look welcoming and provide your property with a friendly, appealing look. That doesn't mean you can't stop people looking in, though. If you decide you want some privacy, flip the shutters closed. You won't have to worry about anyone peeking through, and you can happily enjoy some peace and quiet.
Blackout Blinds - Total Privacy
Residents in Pasadena often worry that people can see into their properties at night. This is because when you have the lights on indoors, it's easy to see through some sheer materials. Privacy isn't a problem you'll have with blackout blinds, though. These room darkening window coverings are specially designed to stop all light passing through. That makes blackout blinds an ideal choice for bedrooms, particularly if they face the street or a neighbor's property.
Choose Roman Shades For Amazing Design Options
You may not picture roman shades as a common way to keep out unwanted attention. These window coverings are ideal, though, when you choose a thicker material. Our fantastic range of custom roman shades provides a wide selection of material types, so you can easily find something that suits your property. Choose any design you like, including fishtail and pleated options, and you'll see that it's possible to get privacy and great looks in one package.
Vertical Blinds - Ideal For Sliding Doors
Do you have a glass sliding door at home or a large window? Vertical blinds are fantastic for letting in natural light, but can also pose a problem. It's often difficult to block line of sight through these areas. Even worse, these windows are often in places where we want privacy the most. You can often find them in living rooms, home offices, and bedrooms. There is a solution, though. Our range of custom vertical blinds makes it easy to cover them up, providing privacy whenever you need it. You can choose from a variety of high-quality materials like fabric, wood, and metal to suit the decor of your Pasadena home.
Custom Privacy Blinds Near You – Free Estimates
Why wait any longer to feel comfortable at home or at your office? Get in touch with Pasadena Blinds & Shades today for a free estimate on window treatments for privacy. Choose from a range of materials, styles, and designs.