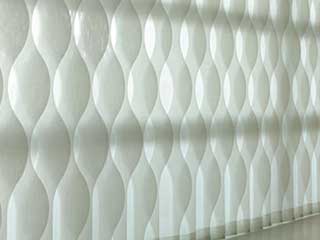 Window blinds and shades do more than diffuse sunlight and enhance the decor of the room around them. Another lesser known but just as valuable aspect of window coverings is creating an air barrier that lowers heat transfer. This is invaluable during the hot summer months and the cold winter season. Your HVAC unit will struggle to maintain your desired indoor temperature in both cases.
Extra Insulation Source
For the most eco and budget-friendly window blinds, many homeowners turn to the honeycomb style coverings, also known as cellular shades. These window treatments are made with a cellular structure that provides added insulation and light filtering. Did you know that your windows and doors are the greatest sources of energy loss? You're a smart person, so you probably did. The cellular structure of cellular shades provides a barrier between the outside air and the comfortable air inside your home. This barrier reduces how much your air conditioner and heater need to work to compensate. The unique design and functionality of these shades are so efficient that they manage to result in a substantial decrease in energy bills after a while.
Custom Made Cellular Shades
It's important that these coverings be especially suited to the sizes and shapes of your home or office windows. If there's a sliver of sunlight that's able to get through from the sides or bottom, it means that air, hot air, in particular, can also travel there. The shade insulation will therefore be less efficient.
How To Choose Cellular Shades
These honeycomb-style coverings come in several different sizes depending on your needs and the size of your window. Smaller windows are best suited with our smallest sized cells while the largest cells provide a lightweight cover for larger windows. If you are looking for new treatments that will look great and help with energy efficiency, give Pasadena Blinds & Shades a call. We offer the best prices on products in addition to quality service you can count on. Schedule a free consultation appointment and learn more about the different custom made shade and blind options available today.