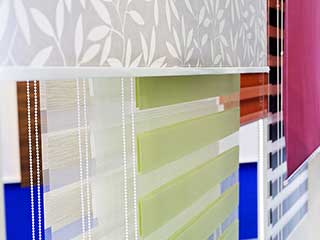 Professionals Who Want To Assist You
If you have no idea where to start when it comes to getting new blinds or shades for your home or business, that's okay! It's where our experts come in to lend you a hand. Thanks to providing free color samples and consultations on styles of window coverings, it'll be a breeze to decide on what type will best suit what you're looking for. Finding the right set of window coverings isn't solely about privacy, preventing sun damage, and other such benefits, but they can also add a lot to the look of the room itself. This is why letting professionals help you discover the best style of blinds or shades is a smart choice!
A Trustworthy Company
Rather than try to force the most expensive products on you whether they're the right fit or not, you can rely on our team to suggest styles that will truly enhance the space they're in and meet your needs when it comes to budget, light blocking, and more. This is because the biggest concern for us is the satisfaction of our customers! Along with this, warranties also range from five years to a lifetime. It's one of the many reasons we're considered one of the very best in California.
For Windows Large And Small
The right set of window coverings for an area depends on many factors! Large rooms benefit from styles such as drapery, which have room to flare out and give an elegant sense of space that elongates the room. Large windows will look too distracting with a lot of lines, which is why vertical blinds or shades are better for them. Have windows that are too high up for manual shades? No problem! Motorized shades take away the need for manual strings and instead let you use a wall panel, remote, or your smartphone to operate them! They just make everything that much simpler.
Don't Wait Any Longer!

Solutions You Can Believe In

Deep Knowledge from Experience

The Most Affordable Prices

High-Quality Products to Choose From