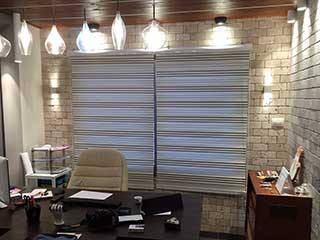 We are living in an exciting age, one where technology is going wild. It's constantly developing to make our lives easier, more exciting and playful. Just about every industry on earth has been shaken up by the many advantages of smart technology. Therefore, it's only fair that window blinds should have their share in the bounty. Many brands and individuals seem to come up with newer and newer innovations each year. Everyone's looking for the next best thing. Not too long ago, two very talented engineering students from the Copenhagen Institute of Interaction Design did exactly that. They managed to merge the world of smart technology with that of window shades.
La Ventana Indiscreta
Despite its fancy name, the concept behind this recently developed motorized shades page is simple if not remarkable. When not in use these shades rest nestled tidily on their support. You can adjust them using one of four settings. Choosing the settings will depend on the time of day, the position of the sun and the user's preferences. Now, this might not sound like anything special, but when looked at closely, you can start to see why this window treatment's design is remarkable. Due to harsh sunlight having some serious damaging effects, controlling length and degree of exposure is invaluable.
Setting 1: The blinds can be mechanically controlled to open the entire way. This will let in sunlight and allow you to utilize natural lighting to brighten up the room.
Setting 2: The blinds can be closed fully, to completely block any light from entering the room. This will protect your furniture from harmful UV rays and will ensure your privacy.
Setting 3: The blinds can be set to open half way to allow some light in, while still enjoying privacy and moderate UV protection. Perfect for kitchen window blinds that shouldn't completely obscure the entire view and allow some natural light in.
Setting 4: This is where these shutters become amazing. The fourth setting of the device will remember which preferences you selected and at which time of day you used it. This allows La Ventana Indiscreta to automatically set the position of your shades depending on how you set them over the previous 7 days. This gives them seamless action without you having to do anything past the initial setup. The shutters will open and close for you, just the way you like it.
Motorization Comes In Many Forms
If electric blinds peak your fancy, you'll be happy to know that there are all sorts of options available. Because innovative technology just keeps marching forward, the number of available options keeps growing each day. Virtually any type of window treatment, from skylight blinds to small or large drapes can utilize motorization in order to allow for remote and automatic operation. For more information about the sheer variety of motorized blinds and shades you can opt for, it's best to sit down with a nearby expert. Pasadena Blinds & Shades offers free in-home consultations, so don't hesitate to get in touch with us to set one up.