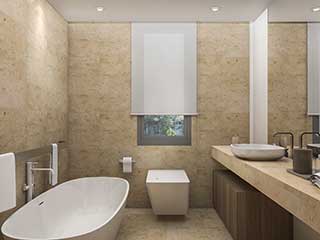 Roller shades are your old standby, versatile enough to be customized for any home or business setup imaginable. They are simple to use and inexpensive, can be made from a wide range of materials, decorated with all sorts of embellishments, and installed in cord-drawn or motorized form.
The Roller Basics
The basic principle is that the shade hangs down over or inside of the window frame, and can be withdrawn by wrapping itself around a rotating spindle overhead. It's simple enough that there's not much that can go wrong with it, and it is sturdy enough to be able to work with all manner of customizations.
Fabric Roller Shades
The most common type of these shades is a screen of low to medium thickness fabric, from common options like cotton or synthetic fibers to classier choices like wool, velvet, or even silk. For a more unassuming shade that doesn't call attention to itself, go with a solid color. Otherwise, multicolored and patterned cloth can fit any décor.
More Sophisticated Materials
Bamboo and wooden weave add a sophisticated and exotic touch, fit for a more decorated room. Solar shade materials can be built into the simple roller design to provide protection from ultraviolet light while letting in brightness, and work well coupled with drapes or blinds for when you want privacy. Cellular roller shades provide the best heat insulation available.
Embellishments And Decoration
Even if you don't opt for bamboo or richly patterned cloth, your roller shades only have to be boring if you want them to be. Embroidery, scalloped edges, tassels, and more can all spice them up without crossing the line into being ostentatious. The sky is the limit with cloth rollers from Pasadena Blinds & Shades.
Call And Order Your Own
If you think roller shades are the right choice, or if you want to ask about our other products, call us at your soonest convenience. Our team delivers right to your door and provides installation services.