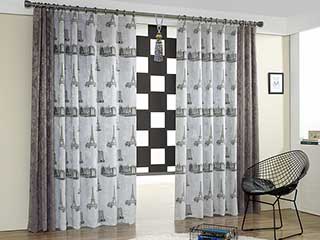 One of the most popular window covering option is soft furnishings. Those are usually curtains and draperies. These covers are ideal in many ways. Curtains and drapes provide benefits that few other window treatments can. With great insulation, sound reduction and light control, these soft window coverings have a place in almost any room.
Custom Curtains and Draperies
Don't feel like you need to compromise when choosing a window covering that suits your needs. With Pasadena Blinds & Shades, you have access to a huge range of different custom options. A representative will be on hand to visit your property and discuss your requirements. This gives you an opportunity to see a wide range of different choices available to you. With professional advice and guidance, you'll have no trouble understanding the difference between curtains and drapes. With all this expert knowledge on your side, you can be sure that your new custom curtains or drapes will be perfect for your property.
Blackout Curtains For Bedroom and Office Windows
When you need to be sure that light is totally controlled, blackout curtains are the ideal solution. Offering unparalleled light blocking capabilities, this material eliminates unwanted natural light. Blackout curtains are also available in a range of different colors. There's a range of styles to suit your needs as well. You can easily enhance the interior design and add sunlight blocking covers to the windows. Match your existing decor with custom blackout curtains from Pasadena Blinds & Shades.
Motorized Curtains and Electric Draperies
Modern technology brings a wealth of benefits to window coverings. By including wirelessly-controlled motors in your new custom curtains, you'll have access to all the control that cutting-edge tech can supply. Spread your bedroom curtains wide with a tap on your smartphone, without the need to get out of bed. Motorized curtains can also be set to change position automatically. This gives the appearance of an occupied home even while you're on vacation.
Curtain and Drapery Rods
The fixtures that set the infrastructure for your new window treatments are crucial. They must be suitable for the upcoming installation. Heavy drapes will need something more durable than lightweight curtains and valance pieces. Motorized draperies will need something to move along smoothly. Their electric opener, i.e. the motor that moves the curtains, may need to sit on the rod. There are various types of curtain and drapery rods suitable for different needs. You must make sure that the infrastructure fits the intended use.
Curtains and Valances Sets
Tie together the look of any room by really coordinating the design of soft furnishings. Matching curtains and valances add an unmistakable element of class. They offer an easy way to improve the aesthetic of your room. Find custom matching curtains and valances sets with Pasadena Blinds & Shades. Your new custom window treatments will get made specifically to suit your requirements. Valances are so popular for the beautiful interior décor contribution they offer. They work great with curtains and drapes, but also with shades. They're the perfect addition to fabric window coverings.
Custom Made Curtains Near You
Pasadena Blinds & Shades services all nearby towns and cities. You can get free in-person consultations at your local home or office. If you're looking for custom curtains and draperies, then this is the ideal way to find the perfect window product. Get in touch with us today to arrange a no-cost, no-obligation appointment and get a free quote.