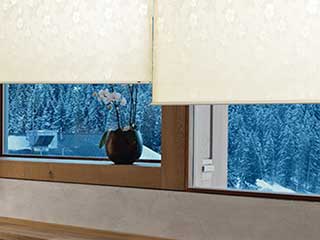 The days of being forced to constantly adjust your window shades manually are over. Nowadays, there's a more modern and innovative solution that allows for more convenience and automation. Motorized shades, as you probably guessed, are this solution. The ability to control your window coverings without being anywhere near them is one of the latest additions to smart home technology, and the benefits are plentiful.
Constant Protection From Sun Damage
It's always a good idea to allow in natural light and avoid using artificial lighting to save energy. However, letting in too much direct sunlight can harm things like furniture, books, paintings, and even your eyes! Long term sunlight exposure causes discoloration and may even lead to irreparable damage. This is a big problem if the window in question is high up and you're unable to manually operate its shading. Maybe it's not too high, but using it manually becomes a hassle. That's where motorized shades come in! For starters, you'll be able to easily open and close the shades no matter how high the window. You can also set a timer to ensure they're closed when the sun's coming in directly. There's more. Brands like Somfy and Lutron also provide self-adjusting options that use sensors to adjust the blinds and shades automatically according to your preferences.
Perfect For Smart Homes
If you've already been upgrading your home, automating your window shades is definitely a convenience enhancement. Many people seek to utilize as much smart technology as possible, and automated window treatments are a great addition. Motorized shades can work with smart home technology in a variety of ways. You can even issue voice commands to your virtual assistant, whether it's Alexa, Google Home or some other one. Self-adjusting shades, as mentioned earlier, will help you avoid energy waste, as well as allow you to get the most out of natural lighting.
The Importance of Professional Installation
Every window in your home needs to be measured thoroughly to determine its precise dimensions. This will ensure the shade is a perfect fit and that no excess sunlight gets through from the sides. Installing motorized shades requires expert skills and experience, in order to avoid a plethora of potential problems both down the line and during the initial introduction of the automated coverings.
Find Out More
Don't hesitate to reach out to us at Pasadena Blinds & Shades and learn all you need and want to know about motorized window treatments and everything that comes with that. Schedule a free consultation and have an expert come to your home or office and provide all the information you need.