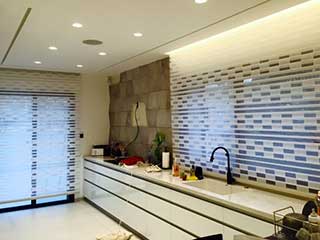 Natural lighting can be very useful in certain areas of your home or office. If the architecture of your place allows it, natural light can be used to provide all your interior lighting needs. The problem with natural light, however, is that when left unfiltered it can be very harsh on the eyes, skin and even furniture and upholstery. While some sunlight exposure is good and even required, too much of it can have adverse effects. This is why you need sheer window shades to control and diffuse sunlight, and filter the harmful UV rays.
Custom Made Sheer Shades
Pasadena Blinds & Shades offers a wide variety of options when it comes to these semi-transparent coverings. From roller to cellular to Roman, your new sheer shades will look just as great as you want them to. One of the main attractive qualities of these sheer coverings is that they come in a range of designs and patterns. Not to mention, there's a whole plethora of colors to choose from as well. With our custom made products, you can rest assured that your new window coverings will also cover the frame in its entirety. They'll leave no gaps for unfiltered sunlight to poke through.
The Power of Diffusion
Hunter Douglas is a brand that specializes in creating a range of very elegant pieces to choose from. Most fall into the muted pastel colors. But there are also some that have vanes that are a little bit darker. When you choose sheer shades for your home or office, you are actually choosing to use two principles: diffusion and blocking. The vanes provide most of the blocking with manipulation of their angles. They can be made of soft fabric or some other similar material. Diffusion is provided by the translucent panel that's draped over the vanes. This panel provides privacy as well as allows most of the light to pass through. This lets you make full use of softened natural lighting, minus most of the damaging UV rays.
The Nearest Sheer Shade Provider
If you're interested in learning more about sheer window treatments and want to find out whether they're a good fit for your decor or not, let us know. Pasadena Blinds & Shades offers free in-home consultation appointments to all residents and business owners in Los Angeles County. Don't hesitate to contact us today to set up such an appointment, during which one of our window treatment experts will show you our complete range of products and advise you on which one best suit your budget and needs.