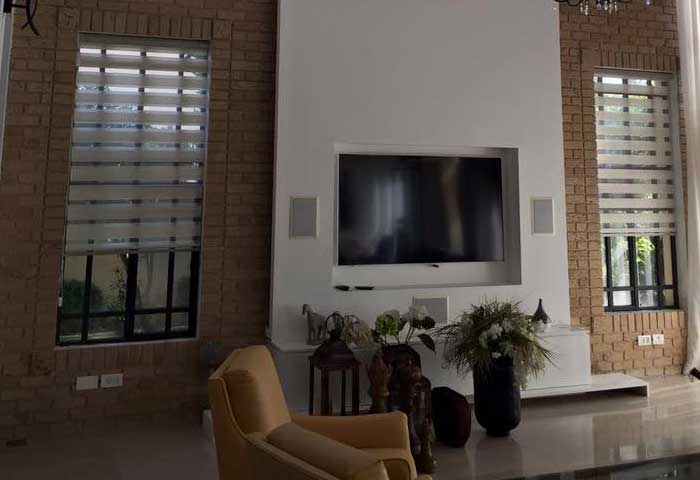 Vertical Blinds
Customer Issue: The customer wanted a tall and very long window in her living room/gallery covered. A large set of vertical blinds was the most efficient solution.
Our Solution: The large size of the window called for some more structural engineering when designing the blinds. Each slat received its own pair of rollers, and we used a more rigid plastic than usual to prevent the blinds from sagging under their own weight. The window was deep set enough to let even bulkier, more rigid slats turn in place, and our designed fit well.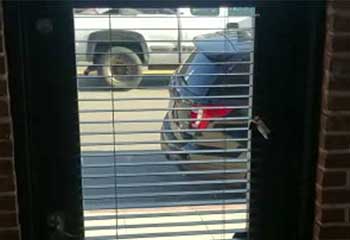 Venetian Blinds
Customer Issue: Mr. Keller's office had nearly been completed in terms of set up, but still required new blinds to keep out glare on computer monitors.
Our Solution: Because Mr. Keller wanted straight-forward window treatments that wouldn't be too loud or distracting, he decided to go with Venetian blinds. They're a simple style that is reliable and easy to use, so his employees won't have any trouble adjusting them and returning to work. He also chose an off-white color that wouldn't be too bright.
Laurence Keller
- Pasadena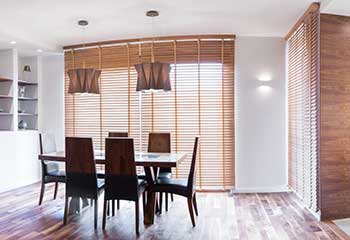 Motorized Blinds for Patio Doors
Customer Issue: Mr. Dixon wanted to be able to let sunlight in and out easily according to his tastes so he could have some natural lighting, but still maintain privacy.
Our Solution: Motorization would let the customer adjust the blinds quickly when he wanted more or less natural light, all with a remote control. He happily agreed that this was exactly what he was looking for, and our team custom made the blinds for installation right away.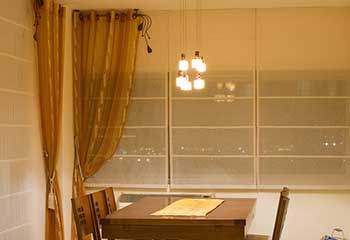 Motorized Roman Shades
Customer Issue: The formal living room's window needed coordinated blinds. The design was very important to the customer, but so was an easy operation.
Our Solution: The customer chose custom-made flat roman shades, to give the room a unique and timeless look. Our team was able to find a solid color that matched the pattern on the existing drapes, and installed Lutron controls, enabling easy operation of each or together using a remote control.
Kenneth Blackwell
- Altadena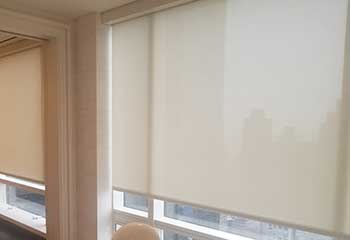 Solar Shades
Customer Issue: The customer was looking to keep natural lighting in his home without the sun damage.
Our Solution: Solar shades allow in natural light through sheer fabric while also keeping out the harmful UV rays that bleach the color out of furniture and books. Our team felt this would be the best fit for this customer's needs and he agreed.
Bruce Jennings
- Pasadena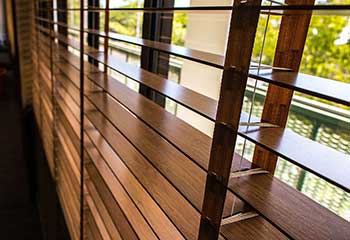 Faux Wood Blinds
Customer Issue: The customer wanted the look of wood blinds without the expense.
Our Solution: While this customer was looking for the classic style of wood blinds, he was aware that it would be expensive to carry out. Our team the suggested faux wood blinds instead, which would look the same while being more affordable as well as resisting moisture.
Vernon Walker
- Kinneloa Mesa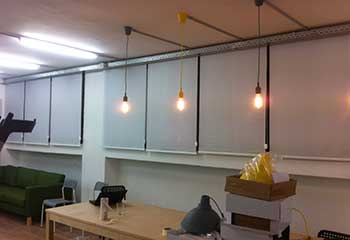 Motorized Shades
Customer Issue: The customer didn't want to devote employee time to adjusting the shades.
Our Solution: Rather than have her employees waste valuable time messing with shades according to the time of day, our professionals suggested that our customer get motorized shades that could be set to open and close with timers instead. This way, they could take care of themselves!